» This website's pictures and text can be subject to copyright (Cf adagp / Paris)
Francis Pellerin was born there on April 2nd 1915.
It is the place of his childhood and of his learning as a cabinet maker.
He used his education at the School of Fine Arts between 1930 and 1935 as an opportunity to perfect his cabinet making knowledge before beginning his training as a sculptor at L'atelier Bourget.
He pursued his training as a sculptor at the Paris School of Fine Arts from 1935 to 1939 in J.Boucher's workshop as well as in the workshop of monumental works ( at Janniot's and Serraz's). In 1938, he settled into his own personal workshop rue du Moulin du Beurre (Montparnasse district) which he kept until 1972. He was handed the Chenavard award in 1939 and received a bronze medal at the Salon of French Artists.
He was enlisted in the air base from 1939 to 1941
Having gone back to the Paris School of Fine Arts, he continued his training with M. Gaumont and worked on sculptures from Landowski and Depiau. In 1942, he won the Roux award. In 1943, at the Prix de Rome trials, he met Suzanne Deregnaucourt, his future wife and mother to his four children. She accompanied him tirelessly through his artistic adventure. F.P. became the first ever ever sculptor to win the Grand Prix de Rome in 1944.
From 1946 to 1948, Francis Pellerin stayed at the Villa Medici where his exchanges with other residents of the Villa and especially the light of Rome led his to initiate a scultpture that strayed away from both academicism and figuration. The sculpture titled "La Joie" was a testament to that phase.
From 1948 to 1998. He was a teacher at the School of Fine Arts until 1978 and taught at the School of Architecture until 1969. He co-led an intense effort towards the making of monumental works, a number of which were funded through the Percent for Art program (created in 1951). He otherwise worked on decorating thirtheen religious sctructures. He was asked to work on a hundred art pieces. Twenty-Four places in Rennes contain at least one of his works.
See the 1964 INA video – Sculptor Francis PELLERIN welcomes Fernand LEREEC in his workshop
He had his own workshop at the Fine Arts but also had a workshop rue La Fontaine in Rennes for a certain amount of time. It was in the attic of his country house in Ray, near Cesson, that he led the research on a paper for works with India ink and gouache. In 1963, he left his house rue Victor Hugo for a workshop-house rue G. Sand in Rennes. He closed his workshop a month before his passing on October 30th 1998.
Outside of his work as a sculptor, he painted and wrote quatrains. When he left Rennes for trips, he brang books and the necessary tools to write and to sketch.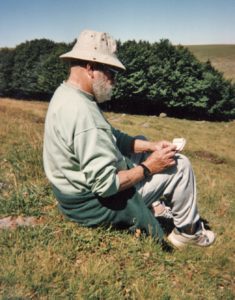 Francis Pellerin – Sketching in Aubrac
© Haude Pellerin