The pictures and text on this website may be subject to copyright (ADAGP Paris)
Francis Pellerin was born in Cancale on 2 April 1915. It was in this small fishing port on the Brittany coast that he spent his childhood and undertook an apprenticeship in cabinet making. 
1930 – 1935
A student at the École des Beaux-Arts in Rennes, Pellerin improved his cabinet making skills before going on to train in sculpture in Albert Bourget's atelier. He won the Prix Conté.
1935 – 1939
He continued training as a sculptor at the École des Beaux-Arts in Paris in the atelier of Jean Boucher and gained experience in monumental works in the ateliers of Alfred Janniot and George Serraz.
1938
Pellerin set up his own atelier on rue du Moulin-de-Beurre (present-day rue du Texel) in the Montparnasse district, which he kept on until 1972. He was awarded the Prix Chenavard in 1939 and received a bronze medal at the Salon des Artistes Français.
1939 – 1941
Drafted into the air force, Pellerin was posted at the Chartres air base.
Upon his return to Paris and the École des Beaux-Arts, he studied under Marcel Gaumont and worked on the sculptures of Paul Landowski and Charles Despiau. In 1942, he won the Prix Roux. The following year, at the Prix de Rome trials, he met Suzanne Deregnaucourt, his future wife and mother to his four children. She would support him tirelessly throughout his career as an artist. Francis Pellerin was awarded first prize in the sculpture category of the Prix de Rome in June 1944.
1946 – 1948
During Pellerin's residency at the Villa Medici, conversations with the other fellows and above all the quality of the light in Rome encouraged a departure from academic and figurative sculpture. The work entitled La Joie marked this transition.
1948 – 1998
Pellerin taught at the École des Beaux-Arts until 1978 and at the École d'Architecture until 1969. Much of his time and energy during these years was devoted to the creation of monumental works, a significant number of which were publicly funded through the 1% artistique initiative established in 1951. He also worked on decorative schemes for thirteen places of worship and completed around a hundred commissions. Twenty-four different locations in Rennes display at least one of these sculptures.
INA video, 1964: Fernand Leréec visits the sculptor Francis Pellerin in his atelier
Francis Pellerin had his own private atelier at the École des Beaux-Arts and for a short time he used premises on rue La Fontaine in Rennes. In the attic of his country house in Ray, near Cesson-Sévigné, he experimented with works on paper in India ink and gouache. In 1963, he moved from his house on rue Victor Hugo in Rennes to one with space for an atelier on rue George Sand. He closed this atelier a month before he died, on 30 October 1998.
Alongside his work as a sculptor, Pellerin was also a painter and a poet: he wrote quatrains. When he travelled away from Rennes, he always took books with him and the necessary materials for writing and sketching.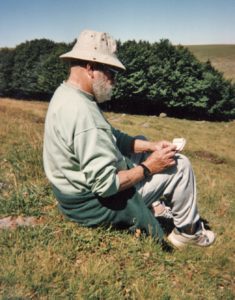 Francis Pellerin sketching in the Aubrac region
© Haude Pellerin